We at Valor American Bulldogs are actively involved in showing our American Bulldogs. Our dogs are registered with both the NKC and ABA and are working on their conformation championships. An important part of our program is to raise and eventually produce dogs with sound structure and proper conformation. A good working dog is one whose structure supports the tasks it must perform.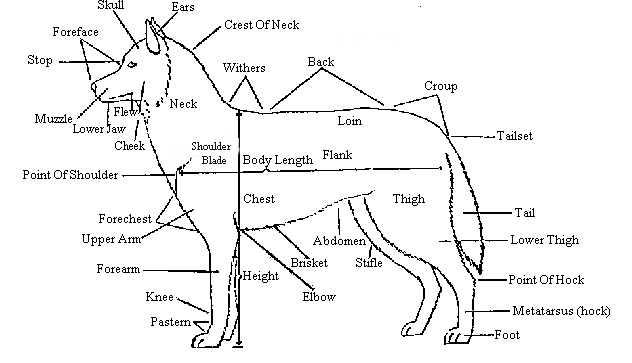 The Muzzle should be of good working length and breadth, but still maintain the attributes that set it apart from other breeds as a BULLDOG. The Stop should be well pronounced, which is a characteristic that distinguishes the American Bulldog from other Bull Breeds. It is important to us that shoulders and hocks are straight. The Rear should have good angulation ( as seen in letter K below), it is essential for the working dog! Pasterns should be straight and strong. An American Bulldog should be well muscled giving the impression of strength and presence. These are just a few of the attributes that we strive for in all of our dogs. Dont settle for less!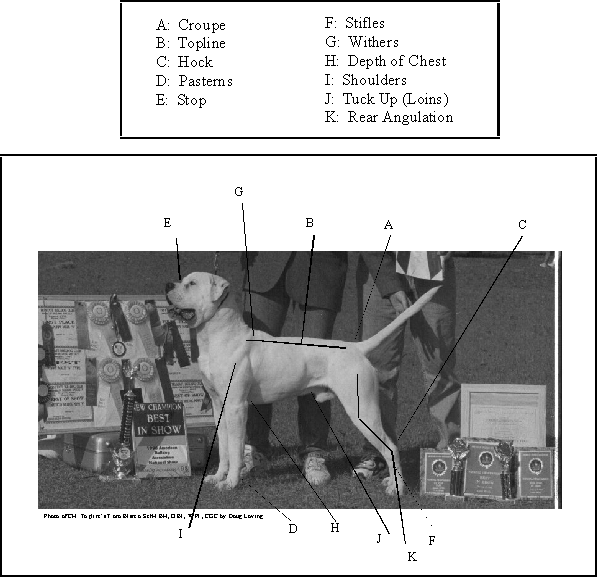 photo courtesy of Topline American Bulldogs...
pictured is Topline's Toro Blanco (Deuce's Grandpa)
Valor's Double Take of KiWS
Saturday SABC Richburg show June 2004
Valor's Chattahoochee
Best Standard Male SABC Sept. 2003
2nd Best in Show Puppy Win
September 2004 NKC show
Valor's Total Knock Out
Best in Show Puppy Richburg, SC June 2004
Valor's Double Take of KiWS
Best Female Puppy 6-9 months
Saturday Win:
Siren taking 2nd place at the NKC Nationals
Sunday Win: Handled By: AUNTIE JOYE
Siren taking 2nd place again at the NKC Ntls.