Deuce x Chucky Breeding
Pups born July 4, 2008
THE LITTER AT 1 WEEK
click the photo below to view the litter's Shutterfly album: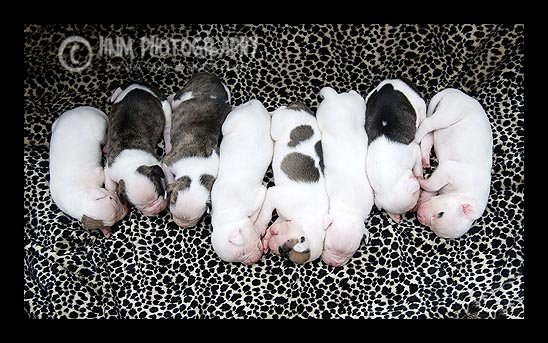 CHUCKY AND DEUCE: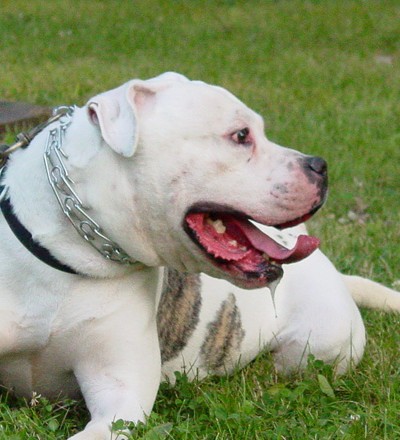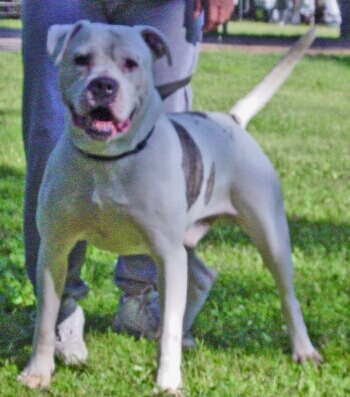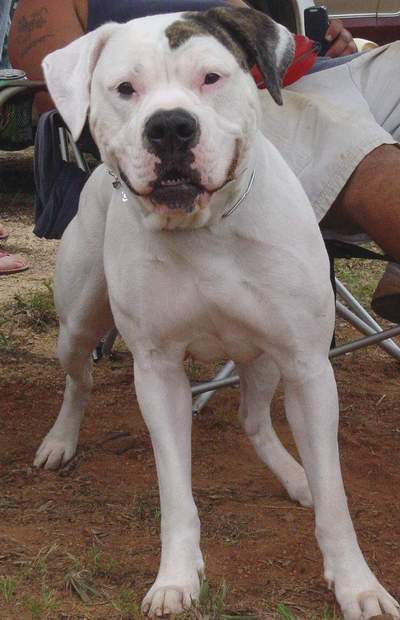 The tie... showing off their matching tail spots: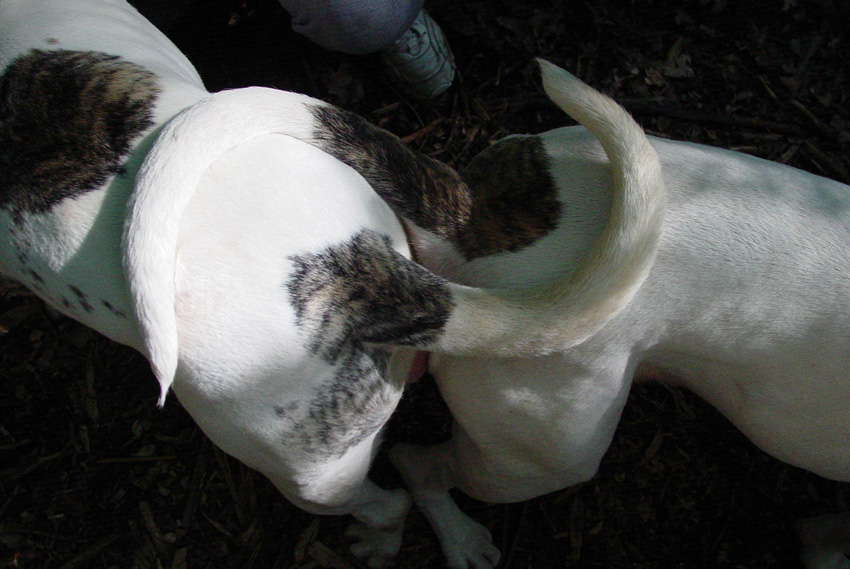 Momma with her babies: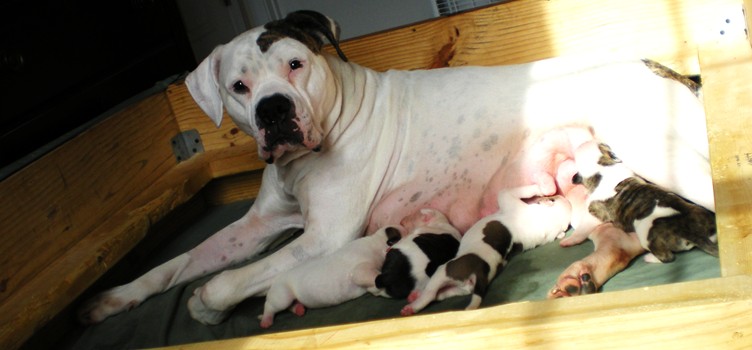 THE PUPPIES....
click on their photo to go to their page

OUR KEEPER:

VALOR'S GREY BALL OF FIRE

AKA: GRYS

SHK'S PIPE BOMB OF VALOR

AKA: PIPER

OWNED BY SANDHILL AMERICAN BULLDOGS

VALOR'S MIGHTY FIRECRACKER

AKA: ENZI

OWNED BY PARAS BARNETT
THE BOYS AT 7 WEEKS CHASING AFTER A CLUB MEMBER'S HAND: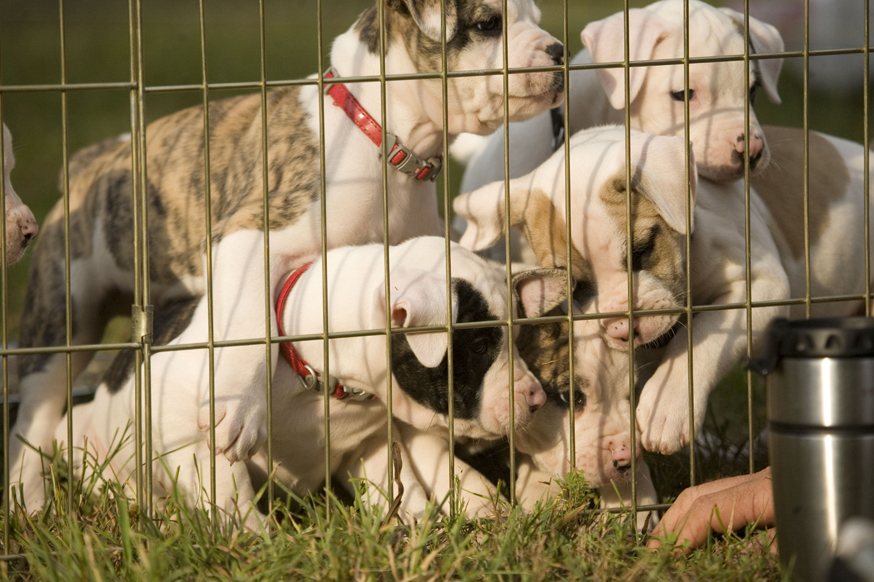 CUDA AND GRYS TUGGING ON THE LITTER FAVORITE... GANGLY RACOON TOY!
ENZI, RAMBO AND GRYS AFTER "THE HAND"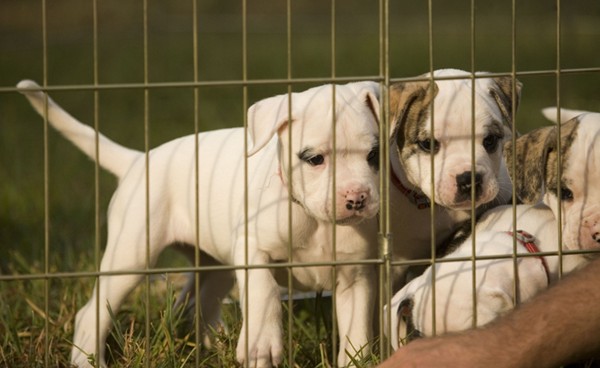 PARKER WITH AN ARMFUL (THE WHOLE LITTER) AT 1 WEEK OF AGE
A lot of research, planning, and effort went into this breeding, as Deuce is such a special dog to me (Tammie). It took me quite a while to decide when the right time was for this breeding, as titling Deuce in Schutzhund was my 1st priority. We obtained our Schutzhund I this March, so with her heat scheduled to come just after that it was perfect timing to do the breeding. We are very excited about the way these two dogs compliment each other. They are strong dogs with strong drives and strong pedigrees.
We are very excited about the Drive, Temperament, and Structure that this breeding should produce and hope that these puppies will be good working prospects and we are looking for serious working homes.
DRIVE... Both Deuce and Chucky have excellent drives for sportwork. Deuce (CH. Valor's Double Take of KiWS Sch I, WBI, BST) has full calm grips, balanced drives, and a very clear head. Deuce and I have been to many seminars and worked on many helpers all with excellent feedback on the quality of Deuce and her work. Chucky has been described as having "Malinois-like drive", intense, full grips, and the ability to take a lot of pressure very well. Chucky comes by this honestly as he is the ONLY offspring of Banuelo's Nikola CH Sch III, IPO III, v-rated protection, overall V-rating at the 1997 DVG National Championships bred to Riche's Fire when Ready of Rockhaus aka Brindle Ch Sch I, Sch II, BST, CDI, ID3 (ranked). 5 Schutzhund titled bulldogs in the first 3 generations is not too shabby (see the pedigree below)! This breeding will be one of only 2-3 breedings that Chucky will do in his lifetime, we are so greatful for this opportunity and are excited to see what this will produce.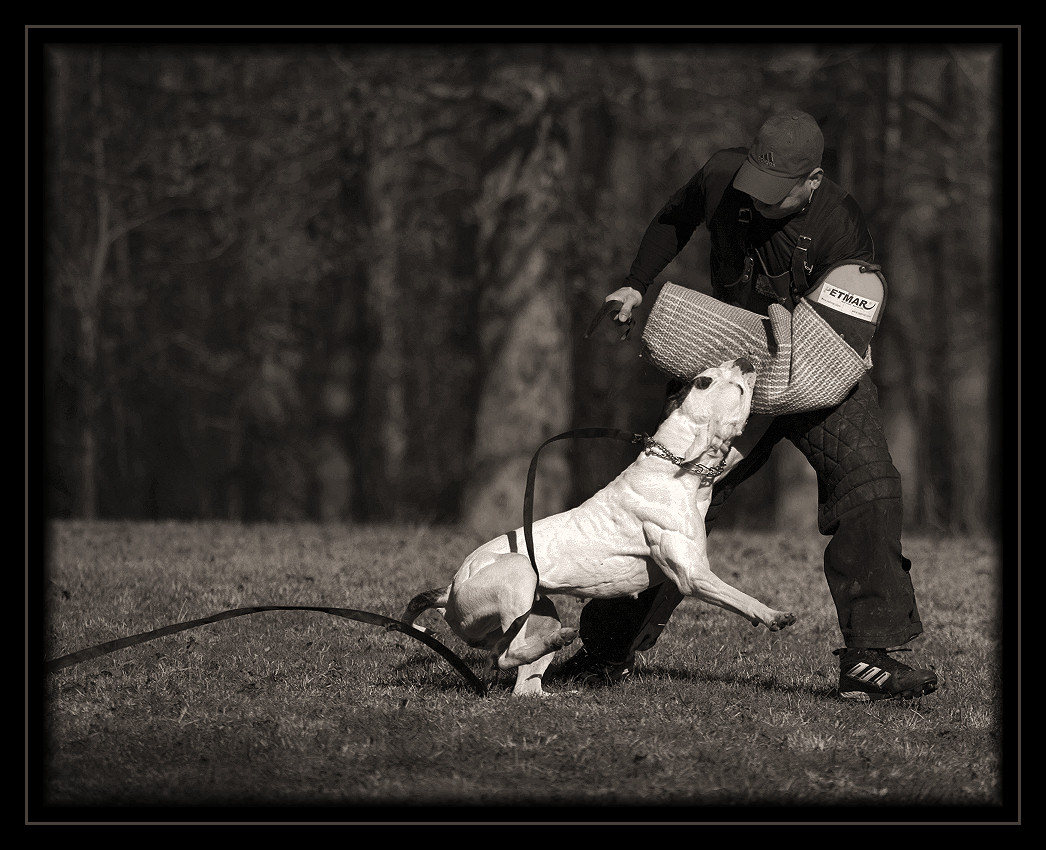 i love this picture of Deuce above... you an see the incredible muscle, the eye contact under pressure, the fight, and the signature paw in the crotch move!
TEMPERAMENT... Both Deuce and Chucky have incredibley stable temperaments with great on-off switches. They both work with very clear heads and are great dogs to work on the field and live with at home.
STRUCTURE... When looking for a match structurally for Deuce we wanted to maintain her good bone, natural muscle, and square head and muzzle. Chucky fits the bill for sure. He is a very proportional dog, very square in his lines with an excellent tail and ear set, AMAZING dentition, and nice square head with heavy muzzle and a nice wide chest. We feel these two could not compliment each other more in their structure!
*****If interested in this breeding please contact Parker or Tammie Barnett at valorambulls@yahoo.com
Link to pedigree database pedigree
Sire
Nikola's Fire

aka: Chucky

Sire
Banuelos' Am Bulldog Nikola, CH Sch III, IPO III, v-rated protection, overall V-rating at the 1997 DVG National Championships
Sire
Banuelos' Predator SCH III
Sire
Symmes' Rip N Woody
Dam
Symmes' Jet Bitch
Dam
Banuelos' Maizie
Sire
Ashlee's Buster Brown
Dam
Smith's Rose Bud

Dam
Riche's Fire When Ready aka Brindle,
Ch Sch I, Sch II, BST, CDI, ID3 (ranked) full sister to Deuce's grandsire - Dodgion's Tank of Rockhaus

Sire
Rock's Diesel,
SCH I
Sire
Symmes' Rip N Woody
Dam
Sure Grip's Troll
Dam
Lizzy Borden II of Sure Grip
Sire
Sure Grip's HogDog
Dam
Sure Grip's Delilah

Dam
CH. Valor's Double Take of KiWS/ Deuce SChH I, WBI, WST

aka Deuce

Sire
KiWS Sugar Daddy CGC, ATTS
Sire
Mullen's Bubba
Sire
Johnson's Dick the Bruiser II
Dam
Blackwell's Blackeyed Susan
Dam
Osgood's Jezebel
Sire
Leclerc's Boss Hog
Dam
Osgood's Ninja
Dam
KiWS Tiger's Eye ATTS
Sire
Sup Gr Ch Topline's Toro Blanco BST, AD, SchH BH, CD3, BST2, OB1, WP1, CGC, PH
Sire
Gr Ch Norman's Sergeant Fury "Turbo" BST, CD1, OFA, PH
Dam
Vanguard's Little Rock
Dam
Dual CH Topline's Lady Sha-nuk OFA
Sire
Dodgion's Tank of Rockhaus
Dam
Dodgion's Orphan Annie
This pedigree page was built for free at SitStay.com